Kevin McHugh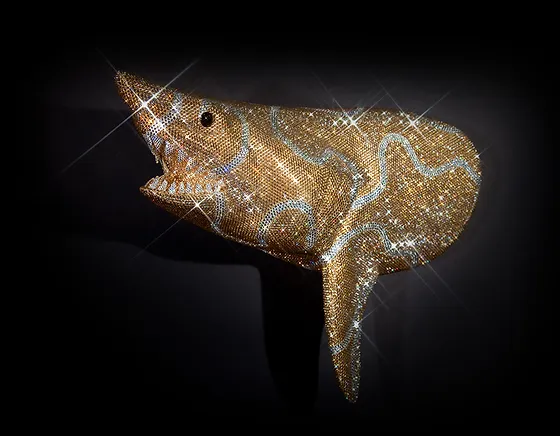 Biography
It's not often that the bold and the beautiful aesthetic of New York City can blend with that of nature's. But in the life of artist and conservationist Kevin McHugh, they're one in the same. Traveling between the worlds of New York nightlife, fashion and music, McHugh became a fixture of them all. He has travelled the world managing the careers of influential artists and DJs and is now traveling that same path with his own art.
McHugh has successfully merged his interest in marine life and passion for conservation into one-of-a-kind pioneering sculptures. The pieces are meant to change the way people perceive the passé notion of "trophy fish" by transforming the idea into stunning works of art. The custom fiberglass or 3D printed pieces are meticulously encrusted with Swarovski crystals and other hand-applied finishes. Most pieces take an average of one to two months to complete.
McHugh's pieces are in collections around the world in Armenia, Spain, the United Kingdom and Brazil to name a few. He is an official partner with Swarovski Crystals as well as the conservation societies Oceana, WildAid, Shark Team One and EWS/WWF. He has been named an official artist of the Coachella Music and Arts Festival for 5 consecutive years and there is now a Disco Shark AR filter in Coachella's app. McHugh has been exhibited in both traditional and non-traditional settings. His pieces have sold from gallery walls, art fairs, hotel lobbies, charity auctions, nightclubs, and designer flagship stores. A portion of the proceeds from all works sold is donated to marine research and conservation organizations. Kevin is also very active Board Member of the Lower Eastside Girls Club.